"Recently a blogger wrote about the experience of being a woman online and then she started receiving messages with explicit sexual and violent threats."
"When this singer and her manager disagreed and parted professionally, he refused to hand over her Facebook account's passwords and even changed the associated email address therefore retaining control and sharing negative posts and comments to her fans"
– Participant examples provided at Safe Sister Workshop
Online attacks like these, experienced by women from different walks of life in East Africa were the starting point for the course of the Safe Sister program in Entebbe in June 2017.
Thirteen tech-savvy women working within civil society and the media sector from Uganda, Kenya, Rwanda, Burundi and Tanzania came together for five intensive days. If anyone was nervous at the start, after the five days participants were sad to part. But they did so with new insights:
"It has empowered me to be aware of my personal space online and I learnt a lot especially when I was tasked to present the topic of 'Keeping online spaces safe'. The research that I did on it opened my eyes to be very cautious with anything that I do online."
When DefendDefenders unravelled the 'Safe Sister Fellowship' program for women in May, 99 % of all the applicants cited cyber harassment, blackmail, account hacking, information leaks, privacy breaches and gender based violence as the most common problems.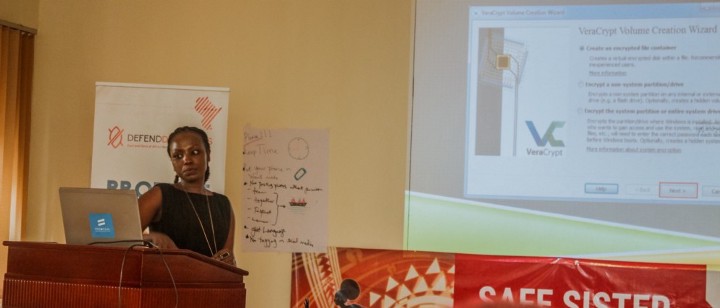 Safe Sister aims at improving and preserving online security and reducing the prevalence of online gender based violence.
Cyber-attacks can cause lasting professional and psychological damage to victims. Reports by the United Nations and other Human Rights organizations agree that cyber-crime is a world-wide phenomenon and, in particular, online gender based violence is a sensitive area for research, documentation as well as prevention. East Africa for example, continues to have ambiguous cyber-crime laws and enforcement procedures
We have observed, after years of training, that fewer women participate in tech-focused civil society programs than their male counterparts . We decided to extend invitations only to women and we also recruited female facilitators to create an open work-space for free sharing of difficult experiences and strategies for facing them. Over five days we looked at:
The best ways to handle cyber-harassment and online violence against women
How to construct a safe password. How to handle personal account access, maintain privacy and personal integrity
What is Malware, Spyware and Ransomware? How are they unleashed within online relationships and in wider arenas against human rights defenders?
How to check one's public when using Linkedin, Facebook, Twitter etc
How to use encryption, VPN and two-factor authentication to safeguard your activity online, your media and human rights work
Can we trust our phones and mobile devices and what are the best methods to secure them?
These topics and many more were researched and discussed during the five days in Kampala. The interactive training sessions were also an opportunity to network and develop mentor-mentee relationships.
"It is a good and important project for human rights activists especially women. My hope is to be empowered in order to be savvy and to be able to help other women and any human right activist who can face online insecurity."
In this first stage of the Safe Sister Fellowship program, participants are being supported to become digital security trainers for their communities. That knowledge is vital today. They will be aiding the development of a digitally secure generation confident in the integrity of their accounts and personal data.
The program is now about to enter its second phase. Safe Sister Fellows will have available to them financial support to conduct community outreach programs designed and implemented by themselves aimed at improving digital safety in their communities.
We are hopeful that these outreach programs will help many people and bridge the digital security information gap in the region.
We are incredible grateful to our team of facilitators and mentors: Helen Nyinakiiza and Emma Nabwire of DefendDefenders, Natasha Msonza from the Digital Society of Zimbabwe, and Haley Slafer of Internews.